Evolutions of #Ecommerce is nothing without #Chatbots, #ArtificialIntelligence and #MachineLearning. These notions represent the new technologies trends that increase the competitiveness of an e-commerce. By 2016, 9 out of 10 customers globally were using messaging to interact with companies. To remain competitive, e-commerce must adapt to the rapid evolution of digital technologies and the behavior of Internet users.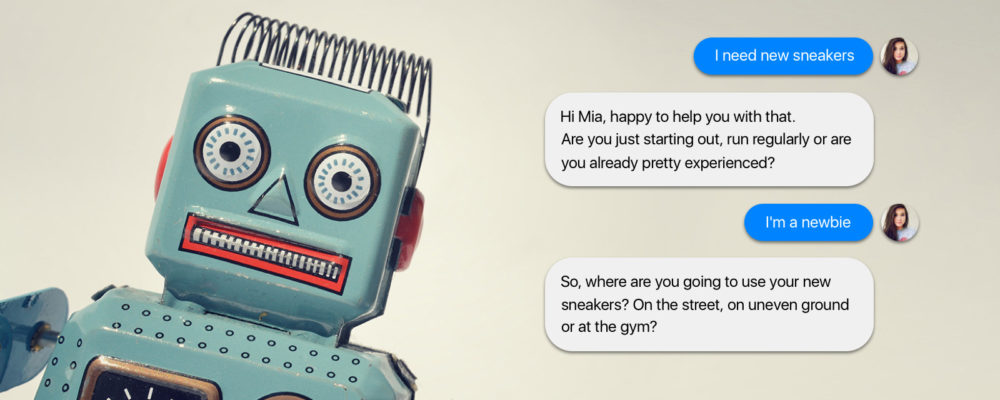 Statistics shows that average time saving per chatbot inquiry when compared with traditional call centers is 4+ minutes in chatbots for the banking & healthcare sectors. By 2022 $8 billion in cost savings is expected. Therefore, application leaders need to include bots in their mobile app strategies to get ahead of this trend.
The phenomenon of Chatbots should transform the relationship between companies and their customers and evolve it towards a personalized one-to-one relationship. Indeed, Chatbots technology comes at a time when with the rise of messaging apps, the way many of us use social media to share and interact is fundamentally changing. According to Business Insider report, 80% of businesses want chatbots by 2020.
Fact: statistics shows the number of global messaging apps users in the first Q1 of 2017 is increased of 17% compared to Q4 of 2016. Messenger, WhatsApp and WeChat are leading with 1.2 Billion monthly active users fallowing by Viber which has 889 million monthly active users. On next spot, we have Skype with 260 million users. Click here to know more stats.
The evolution of e-commerce applications (on-line ordering, on-demand service) is based mainly on the responsiveness and dynamism of Chatbots that adapt to the user-friendly environment. The integration of Chatbots to mobile applications will bring more user-friendliness and ergonomics. The companies will be able to respond to the user's needs directly via the conversation without having them to change the application. According to Gartner chatbots will power 85% of all customer service interactions by the year 2020.
The Chatbots are positioning more and more in the lives of individuals. For e-commerce companies, chat bot presents these advantages:
Enhance the user experience: Virtual assistants are committed to improve the user experience on smartphones by providing them with practical information and by offering them the possibility to interact with their apps.
Set up a new chat channel: chatbots, mostly on messaging platforms, allows customers to place orders and follow them via a conversational interface.
Inform and facilitate access to information: The most intuitive feature is to use Chatbots as an enhanced search engine by helping the user to search and access the right information.
Guide: Chatbots accompany customers in their product choices by giving them personalized advice and responding to their questions.
Sell differently: Chatbots are able to search, plan, reserve and place orders from a single conversation.
Assisting and retaining Chatbots by using messaging platforms as an additional channel for customer relations, is an effective tool for keeping customers loyal to their orders.
Chatbots, a phenomenon to follow closely
Chatbot services have enormous potential. But, as with any new technology, companies need to carefully consider what implementation challenges might come across. For example, they must not forget that with the use of Chatbots, they won't have entire control over their client's experience, so developing great services will be hard. As the number of chatbots is set to explode, how do they plan to ensure their stands out? What makes their service essential compared with their competitors?
There is also the challenge of to the point communication with a client. Customers will quickly turn away from chatbots that can't comprehend straightforward questions. So companies must think how quickly can you shift customers to a human interaction?
As with all customer-facing technologies, privacy and security are critical. Security issues should be considered strictly while integrating a chatbot strategy. Customers won't use services they don't trust with their data.
While AI is gaining momentum and investment, chatbots are getting better with natural language and learning. This increasing facility has enabled better customer experiences, cost efficiencies and potential revenue increases within the e-commerce sphere. Chatbots are therefore a phenomenon to continue to follow closely. And Organizations wanting to deploy messenger chatbots, marketers and chatbot developers should consider compatibility, the consumers' lifestyle and shopping preferences, for a successful implementation. Similarly, the consumers' privacy concerns and resistance to intrusive mobile advertisement are important topics to be considered.