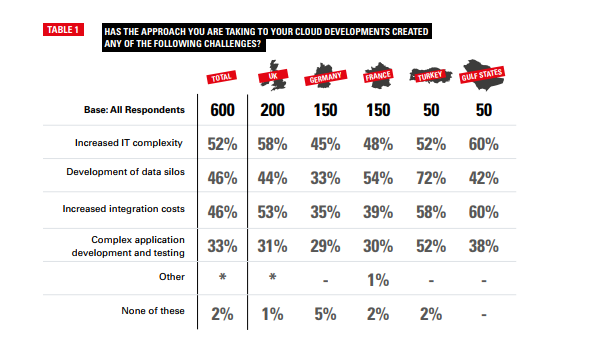 Cloud computing is leading to a major transformation in the terms of digital technology by companies in all economic sectors. The associated challenges relate not only to activity and job creation among digital players, but also to a competitive gain that can be realized by all user companies.
The cloud computing model consists of providing remote and on-demand computing resources, infrastructure, platforms or application software. The advantages in terms of cost reduction and ease of access lead to this rapid adoption, which results in a gradual but decisive change in the information systems, activities and related markets.
However, complexity and lack of integration is slowing down companies' adoption of the cloud, according to a study conducted by Oracle on the EMEA area. The wide gap between central IT and the rest of the organization is directing many companies towards a bad approach of the cloud.
While many European companies are adopting the Cloud Computing, nearly half of them are facing difficulties due to increased integration costs and data storage. One of the main reasons for this situation is that more than 60% of a company's total IT spending is now directly managed by the different business units, instead of IT department, which prevents companies from benefiting from cloud services to which they subscribe to. To avoid these problems, IT department must be the one responsible for providing the funds to keep other departments running. Because the budget is an important tool for identifying and executing the IT initiatives that are crucial to each department, therefore it should be well discussed between IT department together with CIOs.
Study also revealed that organizations continue to finance their IT investments without taking into account potential revenue and innovative projects: 2/3 decision-makers claim that funding their IT is too traditional and penalizes innovation, and 1/3 decision-maker admit that the IT funding models of their organization are hindering IT innovation. As IT budget can be divided across various categories, depending on the complexity and sophistication of your company/department and its structure, it must reflect benefits of IT strategy. For example, if you've been communicating a strategy of migrating to the cloud and highlighting the operational savings, you should reflect those advantages and use them as justification for budget allotment.
Companies need to rethink their IT financing models and undertake a profound cultural transformation in order to fully exploit all the benefits of the cloud. 33% of respondents say that an inadequate model of IT funding is currently penalizing their business. 33% are also convinced that their company's IT culture is insufficient for the cloud age. As a result, 72% of respondents say that a new cloud financing model will allow IT to offer more cloud services to the company, and 70% say it will allow the company to reduce its costs.
Problems that companies are facing in cloud computing adoption are less about technology but it's about the difficulties of synchronization between the different business units. Managers of each department are increasingly making cloud purchasing decisions without involving the CIO or the IT department advice, especially because these purchases are very easy to make. So to be successful with digital business transformation and optimization, CIOs and leaders must brainstorm and communicate the strategy to allow IT spending and functional resource costs to be connected to business processes, outcomes and goals. By developing multiple views of the IT budget and resource allocations per department they can provide a better IT service supply on demand.