Mobile Payments soar as Europe embraces new ways to pay. Not only Europe but worldwide countries are adapting numerous innovative and alternative payment methods, such as Contactless payment, Apple Pay and Samsung Pay. These innovative payments methods are gaining huge success. In Belgium, for example, contactless payment is attracting more and more consumers. Worldline 2016 report shows that Belgians are paying less with cash, and are using their card even for transactions between 1€-10€.
When looking at the top ten countries in Europe where mobile payments are most dominant, we have 2 categories, developing markets such as Turkey and Romania, which have been leaving traditional payment methods behind to adopt new technologies faster; and developed markets – particularly the Nordics – which are evolving to new technologies at differing paces. In the UK, nearly three-quarters (74%) of the people surveyed are Mobile Payments users, and in Belgium it's 75%.

The research also shows that mobile banking activity is increasing across all age groups. For the first time, more than half of European respondents in all age brackets are using mobile banking. With a growth rate of 33%, the highest growth rate is the 55-64 year olds, while profiles between 18-34 have a growth rate of 24%.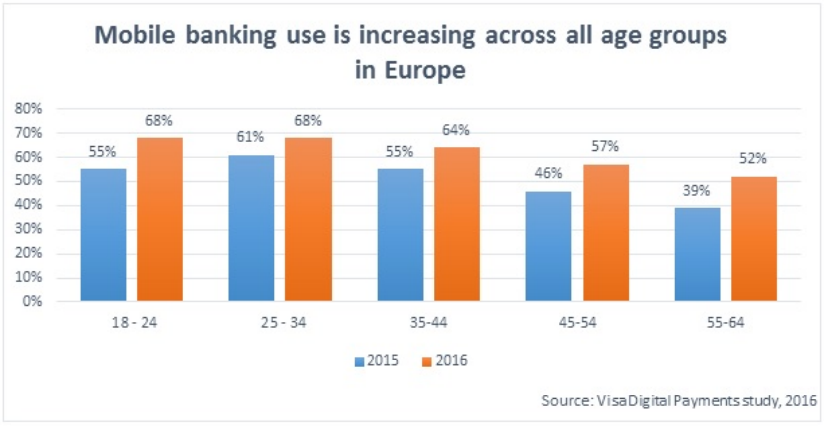 It's in 2014 that Mastercard Belgium has revealed contactless payment system that allows smartphone users to make payments using their NFC equipped devices, smartphone or with smart watch, as this highly protected technology can be installed everywhere. And by the end of 2016, nearly one billion transactions of this type were booked by VISA and Mastercard.
Banks, such as, BNP Paribas Fortis, ING, Belfius, Beobank have decided to join this development and have already offered Bancontact debit card, Maestro, Visa and Mastercard cards equipped with NFC (Near Field Communication) to their clients.
With all transactions together, Worldline recorded a 10% increase in payments by credit card: Belgians paid 1.96 billion euros by Bancontact debit or credit card in 2016. This is 160 million more than in 2015. Of these payments, 71% come from a Bancontact card. On the other hand, Belgium is far behind in the area of ​​contactless payment. Even if banks are offering cards adapted to this system, as a result, less than 3% of transactions are recorded via this new system, much less than in the Netherlands, where 25% of electronic payments are made with a contactless card.
Belgium is really at the beginning of this system, so we do not doubt that the percentage of contactless payments in Belgium will increase over the years. At present, half of Worldline's customer outlets are equipped with contactless terminals. And 90% should be by the end of the year, predicted Christophe Zehnacker, Head of Strategic Digital Partnerships at MasterCard. The goal of Worldline is to equip all of its customers with these new generation machines. Waiting for the arrival of the payment by smartphone, always via these terminals. However, training of consumers and vendors in this practice still needs to be done.
Apple Pay and Android Pay in Belgium
Although mobile payments have been an established trend for the past five years, they haven't really come out on top. Its only in 2016 that smartphone payments became a reality. Whereas mobile payments have always been a fascinating topic, 2017 is set to be a defining year for their providers in Belgium.
From the moment the software allowing contactless transactions is activated in the terminal, it also works for smartphones or other devices equipped with NFC technology. Today, it is already possible to pay without introducing our card into the reader. The contactless payment system via a smartphone is now functional in Belgium on via Android pay. A transaction of less than 25 euros does not require any confirmation of pin code.
According to Christophe Zehnacker, the applications of contactless technology are very numerous. In London, for example, you can use your bank card or other NFC connected device to take public transport without having to bring a physical ticket. At the end of the day, an average of trips is then made to determine the most advantageous price to pay for them. This possibility should spread abroad and discussions are under way to implement it in Belgium.
Apple Pay:
Apple Pay is a contactless mobile payment system that was launched in October 2014. It relies on a transaction security system, preventing the cardholder from entering data related to it (PIN code, cryptogram) reinforced by the use of fingerprint authentication specific to the iPhone 6 and plus. It allows to make secure purchases in stores, in apps, and on the web and send and receive money from friends and family right in Messages.
Apple has to negotiate with the local merchants and banks in each country to impose his service out of United States. The process of spreading the Apple Pay system abroad is similar to a marathon since the Californian manufacturer has to face a specific banking and market context for each country. Negotiations with banks are likely to drag on, delaying the launch of Apple's service for example in Belgium. In fact, no information seems to confirm the installation of this service in the near or distant future in Belgium. However, with the arrival of Android Pay, Apple could react by letting its Belgian users benefit from its mobile payment service asap.
Android Pay:
You already use your phone for just about everything. Now you can pay with it, too. Just add your credit, debit, loyalty, and gift cards to Android Pay, and start shopping in stores, in apps, and online. To be able to use this method of payment, it is necessary to have an Android smartphone which embeds a recent version of this operating system (at least KitKat 4.4+) and an NFC chip (in order to make a contactless payment). If so, simply install the Android Pay app and bind the credit card in question (via a simplified SMS authentication process). Then, to pay, simply approach your smartphone from a payment terminal where appears the symbol without contact and the trick is played.
In march 2017, contactless payment via smartphone has been introduced in Belgium. While Belfius was the first bank to say that its customers would have access to contactless payment from April, BNP Paribas Fortis was first to react. As of today, BNPPF customers, including those of Fintro and Hello Bank, – who hold a Visa credit card or a MasterCard (about 250,000 people) – can pay for their purchases via Android Pay. This possibility will surely extend later to the holders of a debit card (more than 750,000 customers).
According to BNPPF, more than 85,000 payment terminals already allow this type of payment in Belgium, both for small retailers and major brands such as Carrefour, Delivroo, H & M, McDonald's, Media Markt, Medi-market, Quick, Uber or Vueling. In addition, 3.2 million terminals in Europe are already compatible with this payment solution.