Big Data, it is above all a great opportunity for companies to innovate, grow their sales, profits and markets so they can grow their portfolio and also to create new jobs. For customers and consumers of these businesses, it is a guarantee of a better customer experience in all interactions with brands either in sales, marketing or at the customer service.
The idea of data creating business value is not new, however, to explain briefly why, today, only a "small portion" of the data – often digital marketing or customers data but also data collected from connected objects, various maintenance processes, product usage statistics – are actually exploited by companies. The main reason is that the collection, storage and operating correctly the gathered data cost very expensive for some companies. In fact more expensive than the apparent or immediate value generated by the exploitation of these data. Another reason is the fact that most organizations still aren't enough competent to technically manage the huge flow of data that is generated by the above examples.
The big data approach is used to collect, store, and analyze all the data at much more reasonable cost than the traditional process thanks to new storage technologies. Big data technologies release organizations from the traditional accuracy vs. cost challenge by enabling them to store data at the lowest level of detail, keeping all data history under reasonable costs and with less effort if managed correctly.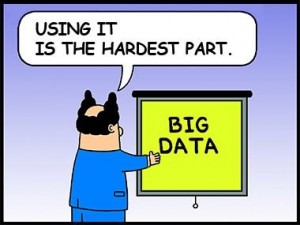 The benefit is that we can now consider to analyze and turn into actionable information, all the data that was once out of reach for both technical and financial reasons but the density of information contained in this new data is still less compared, for example, to conventional transactional data. But this problem is somehow compensated by the huge volume of data first, and especially the ability to cross-check them through statistical algorithms. So now, with a little help of experts in domain, companies have now the ability to exploit big data and to transform it into actionable knowledge then in make profit out of it. "The ability to exploit data correctly will define the difference between the losers and winners going forward," says Tim McGuire, a McKinsey director.
In today's hypercompetitive business environment, one of the biggest business challenges for companies is the importance of being able to find and analyze the relevant data they need, they must find it quickly.
Here a video that explains what's Big Data in detail.
Now that you've saw the video and read the above part, let's check example of a company that has successfully used THE Big Data. ACCOR, one of the French leaders in the hotel industry, has significantly increased its hotel booking rates through the use of these techniques. The business challenge is based on real time offers and recommendations for online users company's website.
Accor has always wanted to derive insights from information in order to make better, smarter, real time, factbased decisions and now thanks to the RTD solution of Oracle (Real Time Solution), ACCOR group achieved more benefits than before. The project is recent (2013) and is still rising and making benefits for the group.
In today's highly interconnected global business environment, marketing departments are front of the most exciting challenges of Big Data in which customer insight is a top priority for organizations in all industries. The main challenge here is to develop, maintain and control a 360 ° view across all channels and points of interaction with the customers.
As Customer satisfaction is at the heart of the selling process for all companies, they must organize the marketing and operational processes around the data. This data must be transformed into knowledge by the analytical part of big data, especially must be operational and available for customer interaction usage.
What's the future of Big Data?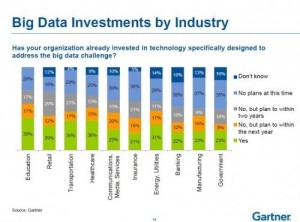 The pursuit of information has been a human preoccupation since knowledge was first recorded. Talking about the future of big data is really vague and deep topic, because it's very much a "here and now" phenomenon. Big Data is a major trend and is set to offer companies tremendous insight. Gartner describes big data as a situation where the volume, velocity and variety of data exceed an organization's ability to use that data for accurate and timely decision-making".
Organizations are increasingly realising the utility of data that is bringing the value through continuous improvements in their existing operations.
Many uses of Big Data are only in their infancy and we can expect to see a surge of uses that we have not even thought of yet today.
The Big Data is as important for business as the Internet in its time. Companies that won't act now will may be overtaken in few years by the competition. It is best to start even a modest project quickly rather than waiting for the technologies and methods to stabilize because then it will be too late.