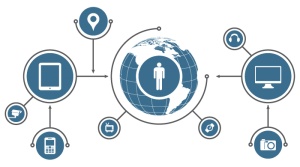 Everyone has their definition of IoT: for me, for example, IoT is a system of interconnected computing devices via public or private IP. These devices have the ability to exchange, collect, analyze and transfer data according to instructions given to them, over specific network without human interaction.
We are living in a world where Internet of Things has caused a massive transformation in our way of living. Our phones, computers, fridge, machines, cars are the existing proof of IoT. Not only in our everyday life but we've seen a strong expansion of IoT in all industrial sectors. Furthermore Gartner predicts that more and more industry players advances step by step towards IoT adoption.
According to Forbes, more and more appliances are connected to the internet. Even though, in 2008, there were already more devices connected to the Internet than people on Earth, 87% of people ignores exact meaning and advantages of IoT but if we have a moment to look back in time, we can see that the automatic banknote dispensers were considered as the very first IoT devices. They are actually connected to the Internet since 1974 already!
Companies are beginning to understand the value of the IoT (return on investment, efficiency, productivity, etc.), so that sales of IoT solutions for professionals will accelerate to the point that companies will become the number 1 market adoption of the IoT. According to Mr Tully Gartner predictions, this year, 4 billion connected things will be use in the consumer sector and will reach 13.5 billion by 2020.

Furthermore, some 10 million 'smart clothes' would be connected to the internet. Thinking here of clothes able to control your heart beat or know the amount of liquid (sweat) you lose per day / hour.
In 2012, only 10 percent of the cars were connected. For 2020, it is expected that 90 percent of cars are connected to the net.
A connected kitchen – which maintains the products therein – allows you to save up to 15 percent annually by telling you, for example, the expiry date of products matured stored init.
The IoT will certainly have a positive impact on economy and it will certainly create new business models. Data gathered in IoT represent a competitive advantage for companies and with the right tools, organizations can maximize their potential.
Sources :